News
Monday, May 31, 2021 10:05 PM
Please Join Us for our 7th Annual Golf Outing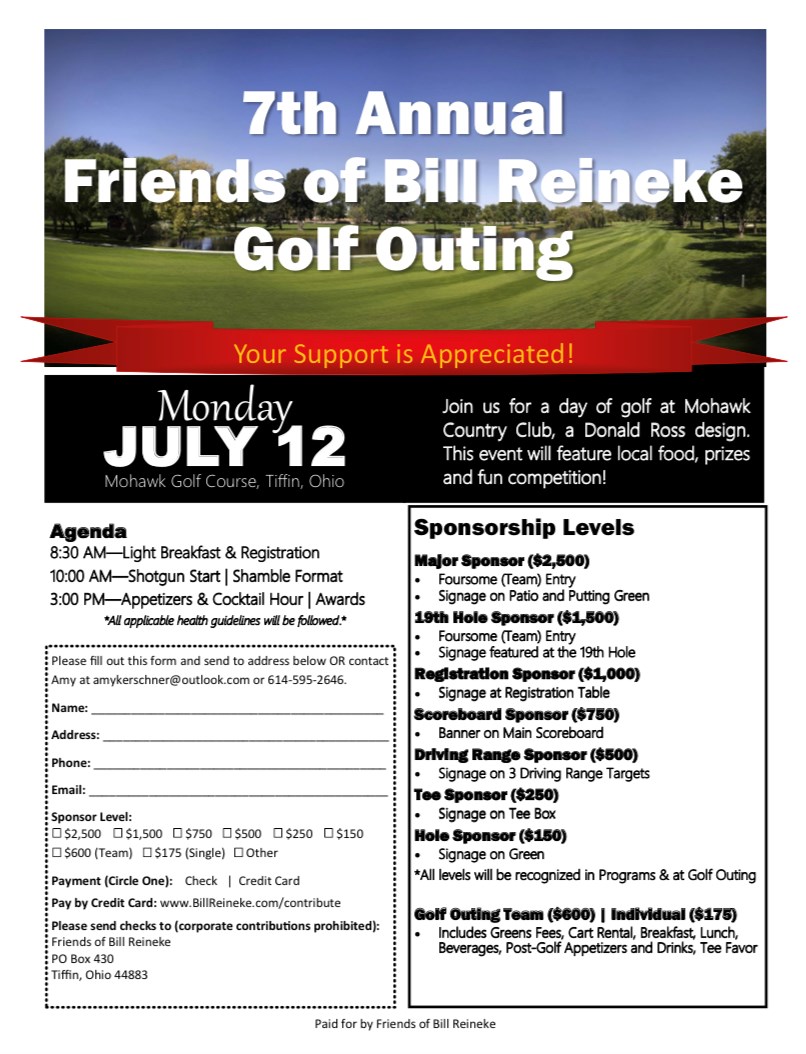 ---
Thursday, April 30, 2020 2:22 AM
Reineke Wins Ohio Senate District 26 Primary
Ohio Senate: Reineke tops Ackison in 26th district primary
State Rep. Bill Reineke cruised to a comfortable victory in the Republican Party primary for the 26th District seat in the Ohio Senate.
Reineke, a Seneca County car dealership owner, collected 64.8% percent of votes cast in the district to defeat Union County business owner Melissa Ackison by 11,237 votes (24,599 to 13,362), according to the unofficial tally Tuesday.
Absentee ballots will be accepted until May 8. They must be postmarked April 27 to be counted.
"I want to thank the voters for their confidence and trust that they have placed in me to be the Republican nominee for Ohio's 26th Senate District," Reineke said in a prepared statement. "I have thoroughly enjoyed representing the great people of the 88th House District since 2015 and appreciate the support of so many constituents that have collaborated with me to accomplish great things for Seneca and Sandusky counties.
"I look forward to continuing that strong collaboration with the citizens of all seven counties in this district to continue to bring a great deal of focus on conservative solutions to our most pressing issues."
Read the rest of the story here: https://www.marionstar.com/story/news/2020/04/28/bill-reineke-melissa-ackison-ohio-senate-primary-election-results-2020/3041898001/
---
Friday, April 17, 2020 11:12 AM
Op-Ed: Safely Putting Ohioans Back to Work
Dear Friends,
Since March, I have been working with the Governor's administration on ways to reopen our economy. Today, the Governor announced that we will likely start to reopen some parts of our state on May 1. This is welcome news across Ohio!
I wanted to share with you an editorial I recently wrote and shared with our newspapers throughout the district. I'm proud to be a part of the solution to moving our state forward and I look forward to hearing any additional feedback you have!
-Bill Reineke
The coronavirus crisis has turned the lives of Ohioans upside down. In recent months, we have all found ourselves in unprecedented territory.We've seen the majority of Ohio's businesses close or make serious adjustments to their operations, families and teachers adjust to distance learning, and our healthcare and essential workers demonstrate incredible commitment and courage through it all. More than 850,000 people have filed for unemployment in the past four weeks, which is more than the entire number of jobless claims the past two years combined. As State Representative, I'm working tirelessly to help our state through this so we can emerge from this crisis even stronger than before.
In the state legislature, we took immediate action to curb the impact of the virus by passing emergency legislation that expands access to medical treatment for those who are sick, eases regulatory burdens for employers, delays tax filing season by three months, and ensures local governments can still serve our citizens during the crisis.
However, we all know that beating the virus is only the start and we will be left to clean up the mess it has left in its path. We must ensurethat our economy is able to bounce back as quickly as possible once we have the green light to safely reopen. Very soon, we need to take the next step towards reopening and recovery.
Since March, I've been working with my colleagues in the legislature on reopening plans and have been in constant communication with the Governor's office regarding the devastating closure of Ohio's businesses. From the employers who can no longer open their doors to the employees who are without a paycheck, these closures have caused a tremendous strain on our local communities.
As a business owner myself, I'm working every day to ensure the health and safety of my employees and their families during these unprecedented times while also understanding their financial obligations.In all my years in business, this has been without question, one of the most difficult times we have faced.
However, we are now beginning to see data that shows distancing measures are working and I applaud Ohioans for making enormous sacrifices that have saved lives.Now that there clearly appears to be a light at the end of the tunnel, it's time to get serious about a phased-in approach to opening our businesses and economy back up.
While the health and safety of every Ohioan is our number one priority, there's no doubt that this current stay-at-home situation in our state is unsustainable.It's time to put Ohio on a path towards renewed economic prosperity and we have a choice on how best to accomplish it. Some choose to scream and arm-chair quarterback those who are doing their best to protect Ohioans. The more effective and productive course is to identify practical, real-world solutions for the well-being of all Ohioans – including workers, job creators and families who are struggling.
I've shared with the administration that I believe our focus should be on helping small businesses reopen soon with proper social distancing such as restaurants and other retailers. By expanding the space between seating areas, setting up smaller maximum occupancy numbers, and increasing cleaning protocols for the staff, local businesses can reopen safely and people can get back to work.
Large employers have also been impacted by this shutdown, where some have furloughed employees, reduced normal store hours, or even closed entirely. This virus has impacted every Ohioan in some way in every county, which is why it is important that get the plans in place now before more businesses are forced to close permanently.
Additionally, doctors and surgeons are continually frustrated about their inability to perform surgeries and provide proactive healthcare outside of COVID-19 patients. If anyone knows how to sanitize their workspace and engage in aggressive safe workspace protocols, it's doctors, nurses, and medical professionals. Several of us in the legislature have suggested reopening these medical facilities by appointment only or capping the number of people in at one time to give them some semblance of normalcy.
I am so grateful to the community leaders and business owners across Ohio who have shared their collective ideas for reopening our state with me. Your practical input is meaningful, helpful, and is being shared with administration officials. If you haven't shared your constructive ideas, I want to hear from you as well. Please email me at
Rep88@ohiohouse.gov
and our Ohio 2020 Economic Recovery Task Force at
Ohio2020@ohiohouse.gov
and make your ideas known.
As a father, grandfather and business owner, I share the concerns, the frustrations, and the worry that so many of us are feeling.Our state and nation have never experienced anything like this before. None of this is easy, but wewillrecover. When we do, I am confident our economy and our state will emerge stronger and more resilient than ever before.
Bill Reineke
State Representative
###
State Representative Bill Reineke was raised in Fostoria and is the eldest of ten children. Reineke has spent his career in business in northwest Ohio, employing over 450 Ohioans. Reineke was first elected to the Ohio House of Representatives in 2014 and is a leader on workforce development issues. A 100% pro-life, pro-2ndAmendment conservative, Reineke is a thirty-year resident of Tiffin and is a proud father of his two adult daughters, Suzanne and Jacquelyn.
---
Sunday, March 29, 2020 12:22 PM
Ohio Extends Absentee Voting for 2020 Primary until April 28
Ohio has extended the 2020 Primary election by mail-in ballot only through April 28! Click this link and follow the directions to get your mail-in ballot. Once completed, mail the ballot to your county Board of Elections by April 27 to have your vote counted.
---
Friday, February 14, 2020 1:45 PM
Reineke Campaign Announces District-wide Ads